A TORLYS floor's beauty goes far beyond its gorgeous appearance. They create floors that enhance your space, inspire your imagination, and withstand the rigors of your daily life. TORLYS offers a wide selection of flooring that is diverse and unique in the industry. TORLYS floor designs are beautiful, durable, and environmentally friendly. The Life-Proof Laminate Flooring from TORLYS is definitely worth considering for your next project. There is a wide selection of laminate floors offered by TORLYS that are virtually indistinguishable from actual hardwood flooring.
Discover the story of TORLYS Floors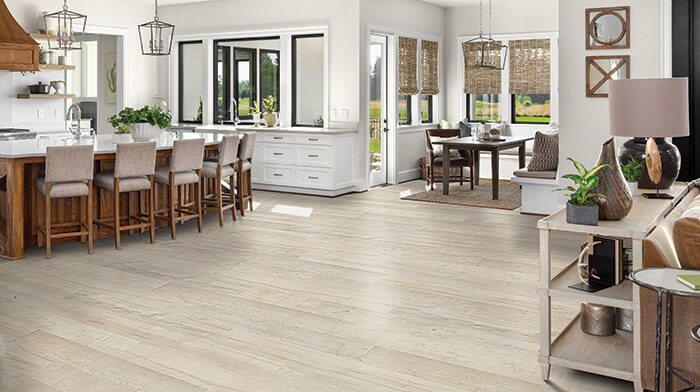 Photo: Torlys
Through the use of the latest technologies, TORLYS has been providing homeowners, builders, and property managers with innovative flooring solutions since 1988. From humble beginnings as an innovator of floating floors, TORLYS has grown into a company that offers numerous unique and exclusive products. With TORLYS, you can be a part of the flooring revolution. Innovation has been part of our DNA for more than 30 years.
The mission of TORLYS is to provide better flooring solutions to its customers. TORLYS is derived from Toronto (TOR), where the company was founded, and Lisbon (LYS), since the company was founded by two Portuguese individuals. With the arrival of Peter Barretto in 1991, TORLYS began to shift from being a large regional distribution company of building materials and flooring to a specialist in international flooring distribution.
TORLYS has since grown into one of the fastest-growing flooring companies in Canada, recognized for its innovative, one-of-a-kind products as well as its specialization in stylish, easy-to-maintain, smart, and eco-friendly flooring. In addition to providing unmatched innovation and value, TORLYS is dedicated to creating smarter flooring solutions. Their goal is to create premium floors that are environmentally friendly, without sacrificing performance or aesthetics. The TORLYS Innovation Lab has been reimagining flooring and working tirelessly to make sure all the products we manufacture are of the highest quality and made to last. They stand behind every Smart Floor with our exclusive warranty. The company offers a lifetime warranty on TORLYS S.M.A.R.T products and guarantee exceptional performance. TORLYS BulldogTM easy plank replacer makes our one-of-a-kind floors highly maintenance-friendly and easily renewable. It is even possible to reuse them under warranty! Since TORLYS began in 1988, it has changed the flooring industry and become one of Canada's fastest-growing floor covering companies. The investment you make in a TORLYS floor will reward you for many years to come
TORLYS Floors Environmental Impact
Photo: Torlys
TORLYS understands that protecting our environment is of greater importance than ever before. In their capacity as a member of the CGBC, TORLYS strives to make our floors as sustainable as possible, ensuring that you have floors that you can be pleased with. TORLYS has a policy of reducing its environmental footprint by complying with and exceeding the world's strictest Indoor Air Quality standards, contributing to LEED® certification, and adhering to the principles of "reduce, reuse, and renew."
TORLYS Floors Indoor Air Quality
It is important to note that TORLYS floors comply with CARB regulations, meet or exceed California's indoor air quality standards (Section 01350) (among the world's most stringent requirements), contain no harmful VOCs, and are virtually 100% FloorScore® certified.
TORLYS Floors LEED® Certification
Materials and resources, indoor environmental quality, and innovation and design process are three areas where TORLYS products contribute to LEED® credits in new construction and commercial interiors as well as existing buildings.
The Beautiful Flooring Products of TORLYS
Photo: Torlys
Luxury vinyl flooring is the perfect addition to your modern home. With TORLYS precision-crafted luxury vinyl floors, you will find them to be water-resistant, warm, quiet, and easy to clean. TORLYS EverWoodTM offers the widest and longest planks in its class with realistic wood textures and visual effects. The TORLYS EverTileTM floor combines ceramic and stone on-trend looks, warmth, and durability all in one product. The TORLYS RigidWoodTM provides a solid, quiet surface with no peaks, gaps, or cupping thanks to the unique construction of this product. While TORLYS RigidTileTM provides beautiful tile patterns with classic and realistic grout lines. Each of the four vinyl options provides a luxurious appearance and is highly reliable.
TORLYS CorkPlus™ BLUE
Photo: Torlys
Torlys CorkPlusTM BLUE underlay provides natural air cushioning for comfortable sleeping, noise absorption, and thermal insulation. Because it is made from recycled cork, this underlay is environmentally friendly and contributes to the preservation of protected oak forests. As an exclusive feature of TORLYS, Microban® antimicrobial protection prevents the growth of mold and mildew as well as the proliferation of odours.
The Microban® Advantage is exclusive to TORLYS
The Microban® brand of antimicrobial protection technology provides TORLYS with the exclusive right to use Microban® for the protection of its cork underlayments. The Microban® protection on TORLYS floors prevents mold, mildew, and odor-causing microbes from growing, thus preventing floors from deteriorating. Your floor will remain clean to the core with TORLYS Smart Core with Microban®. Microban® antimicrobial technology ensures that even if bacteria reach the core of your floor, it will remain clean and fresh.
At TORLYS, They Protect What Matters Most
There is a common misconception that the dirtiest areas of a house are the ones that we touch with our hands. In fact, the area that retains the most bacteria is directly under our feet. Because of the daily activities we engage in, floors constantly accumulate bacteria. There are even crevices underneath many of these windows that allow harmful mold to grow! With TORLYS antimicrobial flooring, you can help protect your home from bacteria. Antimicrobial technology is built into certified floors, allowing you to live more and worry less.
TORLYS Antimicrobial Protection: What Does It Mean?
Photo: Torlys
A microorganism cannot grow if its reproduction is suppressed by an antimicrobial. A microorganism consists of a cell or cell cluster in a single cell, including eukaryotes, including fungi and protists, as well as prokaryotes, including bacteria and some algae. By using Microban® technology, products are enhanced with antimicrobial protection that prevents the growth of bacteria, mold, and mildew, reducing odors and keeping your home clean. Microorganisms such as bacteria, mold, and mildew cannot grow with antimicrobial protection. A TORLYS floor with 24/7 antimicrobial protection provides an extra layer of protection against odor-causing microbes. There are a wide variety of TORLYS Smart Floors available with TORLYS antimicrobial protection. Antimicrobial technology can be found in different parts of a floor, including the finish, the core, and the underlay.
TOLRYS understands that protecting the environment has never been more important than it is today. As a member of the CGBC, TORLYS works hard to make our floors as sustainable as possible and only considers treatments that are non-harmful to the environment. With Microban®, antimicrobial agents are safely and effectively eradicated. During manufacturing, it is bound into the solid treated product, so it cannot enter the wastewater. As a result, there is little potential for leaching.
To check TORLYS Inspirational Gallery, click here!
Other flooring blog articles you may want to read:
TORLYS LAMINATE FLOORING BRAND DETAILS
BEST BUY VINYL FLOORING | COMPTON SPC VINYL
THE DIFFERENCE BETWEEN HARDWOOD AND LAMINATE