It is often considered that solid hardwood flooring is as good as it gets, while laminate flooring occupies the next rung down as an inexpensive alternative. In terms of quality, hardwood flooring made from 3/4-inch-thick boards of solid hardwood is incomparable. In spite of this, laminate flooring should not be automatically discounted. Both solid hardwood floors and laminate flooring have their own unique qualities and challenges. When it comes to hardwood flooring and laminate flooring, there is more to consider than their cost. There are advantages to both types of flooring, and each offers something different. Laminate is an excellent choice for basements and children's rooms. In contrast, hardwood floors provide a sense of comfort and elegance unmatched by laminate. The resale value of this material is also higher, and it has a longer life span than laminate if it is properly cared for.
Photo: The Spruce
The manufacturing process and aesthetics of laminate are different from hardwood. A hardwood floor is made of real wood, while a laminate floor is mostly made of synthetic materials. There are a variety of laminate styles available, including some that look like hardwood or have brilliant patterns and colours. It's important to understand the fundamental differences between laminate flooring and hardwood if you're considering home improvement projects.
The Major Differences between Hardwood and Laminate Flooring:
Hardwood Flooring
Hardwood is produced from old and mature trees. Following that, it is machined and sanded before being painted and sealed at the manufacturer or installed unfinished before being painted and sealed. Natural hardwoods, such as oak, maple, or hickory, have a long lifespan when they are properly maintained. Hardwood flooring comes in a variety of colours, ranging from the soft blonde of white oak to the deep dark of ebony. You can also select your preferred hardwood flooring finish. Moisture-cured urethane, as an example, is durable and ideal for high-traffic households with pets and children.
Laminate Flooring
Laminate flooring is a composite material created by manufacturing companies. It comprises a water-resistant stabilizing base coat that is covered with density and strength-giving synthetic fiberboards. On top of that, there's a photographic surface that provides the plank its pattern and color, as well as a transparent resin to protect it. Compared to hardwood flooring, laminate flooring is much cheaper but will not last as long, since it is made of synthetic fiberboard with a laminate finish. It should be noted, however, that laminate flooring is not necessarily inferior, as it may be more resistant to stains, scratches, moisture, and even general wear and tear in some situations. The quality of materials and upkeep play a large role.
Check this video to see their visual appearances:
Hardwood or Laminate Flooring: Which Looks Better?
Hardwood and laminate flooring are both wonderful options. Each material has advantages and disadvantages. The value, water resistance, and maintenance are all advantages of laminate. Hardwood's distinctive beauty, durability, and capacity to raise property value make it a desirable option.
Many homeowners prefer hardwood flooring because of its natural texture and beautiful color. Various types of wood, stains, and finishes can be selected to create an array of options. Hardwood has natural quality with organic grain patterns that are distinctive. Can be stained and finished in a variety of ways. Attractive stains can be put to paler hardwood flooring. 
On the other hand, the quality of synthetic materials used for laminate flooring is improving. They have shown efforts to replicate the appearance of hardwood floors. The appearance of laminate flooring will not change as much as that of hardwood flooring over time since laminate flooring has great scratch resistance. The style of laminate flooring has a lot of options you can choose from.
Hardwood and Laminate Flooring: How Are They Maintained?
Your flooring must be simple to clean and free from bacteria. Both hardwood and laminate are quite easy to maintain and clean with high-quality finishes. However, there are some significant differences between the two. Hardwood flooring is simple to clean using a vacuum cleaner or a broom. Scratches can be avoided by using furniture pads. Even though some hardwood floors are water-resistant to some extent, it is important to use caution in order to prevent spills from soaking the floor. Keep your hardwood floor in good condition by cleaning spills and messes immediately after they occur.
Laminate flooring can also be cleaned with a gentle vacuum. In addition, it has a water-resistant outer layer to minimize damages caused by water. It can be cleaned with a damp mop. Despite laminate flooring being water-resistant to some extent, it is recommended that spills be cleaned up as quickly as possible in order to prolong the flooring's useful life. In addition, the color of laminate flooring is unlikely to fade in the sun.
Hardwood and Laminate Flooring: How Are They Installed?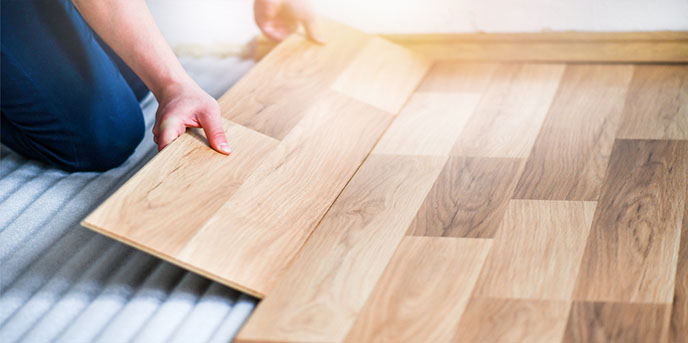 Photo: Twenty & Oak
Professional installers, regardless of material, provide the best results. But first, consider both the simplicity and difficulties of each installation technique.
A solid hardwood floor is difficult to install by someone who is not a professional. It is necessary to rent special tools such as a floor nailer or stapler. The sanding and finishing of unfinished flooring must be completed by professionals after the planks have been installed. A prefinished hardwood floor, on the other hand, does not require finishing after it has been installed. It is more convenient to install prefinished hardwood flooring during the installation process. A variety of custom treatments and colors are available. In comparison to laminate flooring, it will be more difficult to install for DIYers. 
In most cases, laminate flooring is available in the form of tiles or planks that snap together during installation. In this way, you will avoid the need to use nails or potentially harmful glues (VOC-releasing). Laminate floors can be installed above and below ground; however, precision is required when cutting planks.
Hardwood and Laminate Flooring: How Durable Are They?
If you want to make a good investment in your flooring, you must make sure it is durable. Ideally, it should last a long time and be able to handle daily use. With proper care and maintenance, hardwood flooring could last up to 20 years. Hardwood floors are highly durable. In terms of impact resistance, laminate flooring is moderately good. It is possible for laminate floors to be gouged or dented if a heavy object hits them with enough force. It is possible for water to infiltrate into the laminate, and chair legs to scratch it. You cannot refinish or sand laminate flooring. Replacement is the only solution when it is damaged. The laminate floor has a good layer of resistance against stains, dents, and scratches. It is the ideal flooring for people who have hectic schedules. Most of them will last 15 to 25 years. 
Hardwood and Laminate Flooring: Which is Better For Pets?
Photo: Patrick Lumontod
The claws of your pets can be tough on your flooring, so figure out which material will hold up the best. The main concern of pet owners about flooring is its scratch resistance. So even if pets are given manicures regularly, they may still scratch the floor. It is important for homeowners that their flooring can withstand frequent scratches. Fortunately, laminate flooring is among the most scratch-resistant flooring options available. In spite of this, not all flooring manufacturers or models are available in all locations. It is important to pay close attention to the product specifications or abrasion classification (AC) when selecting laminate.
The AC rating of laminate ranges from A1 to A5. Floors A1 and A2 are too low for a pet-friendly residence. A laminate floor with at least an A3 rating is preferred when it comes to resisting daily claw actions. Despite being scratch-resistant, A4 and A5 are designed for very busy residential and commercial use and often have fewer styles to choose from. In addition to this, pet hair can also be easily removed from laminate flooring. Kittens and puppies will also benefit from the improved water-resistance of laminate flooring. Just be sure to wipe any water spillage caused by your pets immediately. So laminate is a great answer for all house situations.
Many types of hardwood floors are timeless and beautiful, but many of them do not withstand the daily wear and tear that comes with owning a pet. It is necessary to maintain hardwood floors regularly to prevent water damage, scratches, and dents. There are ways to make hardwood flooring work if you're set on it (they're pretty irresistible, after all). If possible, choose a wood that is as hard as possible, or choose a rustic, textured look that will hide scratches. You can also choose finishes that are damage-resistant in order to better withstand wear and tear. In addition to this, hardwood floors can be noisy when pets are running around.
To learn more about the best type of flooring for your pets, click here:
Hardwood and Laminate Flooring: Which is Better for Your Home?
Photo: Home Stratosphere
Hardwood and laminate are excellent flooring options for your home, with options to suit every budget. However, each has its own set of characteristics and is tailored to meet unique requirements.
Hardwood flooring is the ideal floor for most rooms in your house, and can be used in your kitchen. Laminate can be used anywhere (outside of a bathroom). We love the look of hardwood and because it's long-lasting, warm, and attractive. Both laminate and hardwood are easy to maintain. For your living room, hardwood flooring is also an excellent choice. Our living room is likely the largest and most-used place in the house, therefore, this is where you should invest your money. Hardwood provides personality. It's visually appealing, comfortable to walk on, and one of the first features your visitors would see.
The flooring in high-traffic areas, however, must be durable and able to resist repeated wear. In utilitarian rooms where mud boots and damp laundry will be frequent, laminate is a great choice. Both laminate and hardwood are amazing options fore your home, pick the right option for your needs and enjoy your beautiful new floors! 
Other flooring blog articles you may want to read:
Torlys Laminate Flooring Brand Details
German Laminate Flooring Special Launch
What is Engineered Hardwood Flooring
Biyork Floors Engineered Hardwood Flooring Collections