There is no doubt that your home's floor is one of the most used areas. All manner of wear and tear occurs as a result of someone walking on it, playing on it, dropping something on it, and so on. It is in your best interest, as well as that of your floor, to use a high-quality covering. There used to be a time when vinyl flooring wasn't considered a top-quality covering, however, innovation and quality advancements have pushed vinyl flooring to the top of the list.
What Are the Benefits of Vinyl Flooring?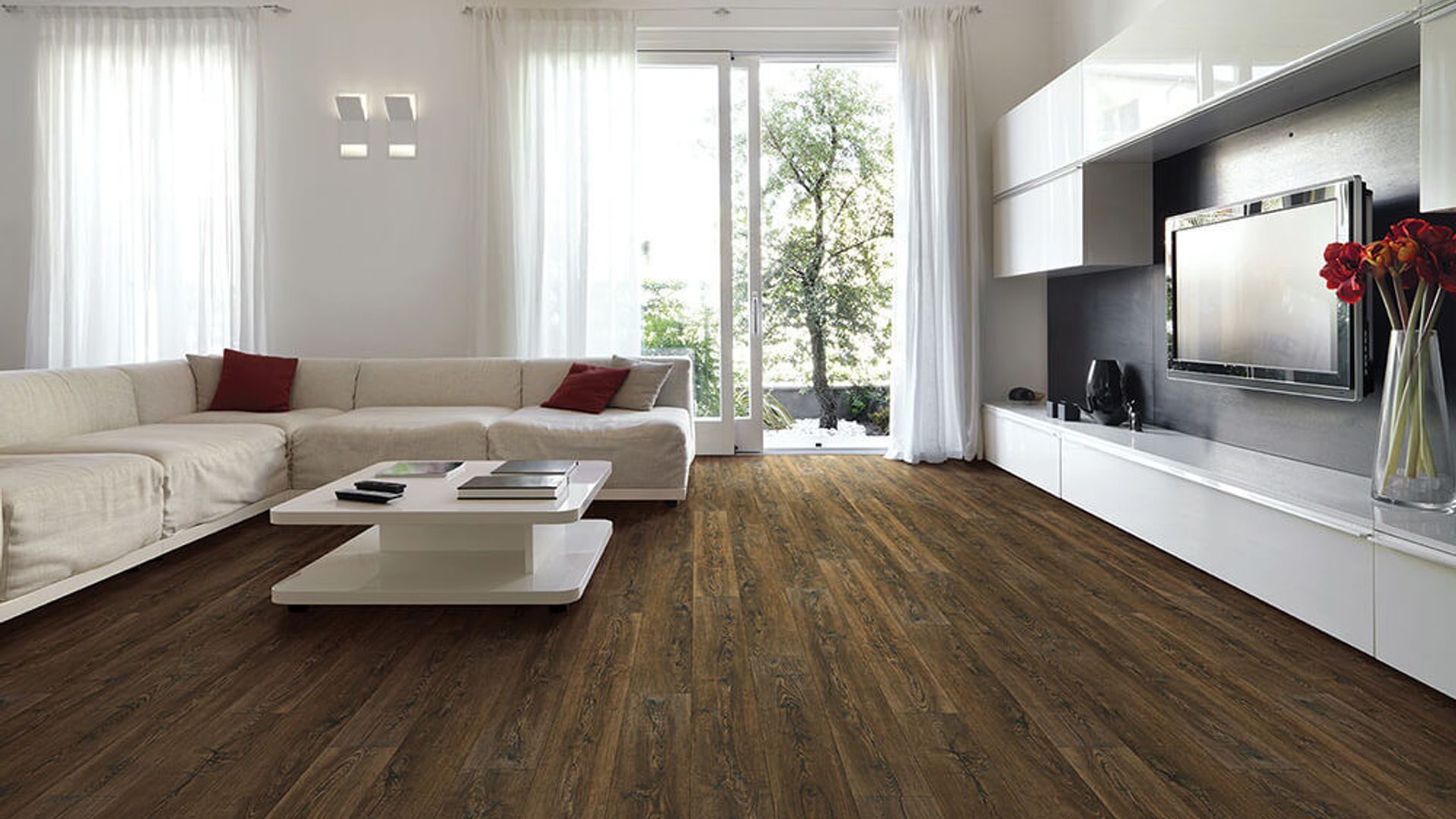 Photo: Coretec
Before deciding on the type of vinyl flooring for your home, you may want to review the advantages of vinyl flooring over other options. 
The durability of vinyl flooring makes it suitable for areas with heavy foot traffic. It is an excellent choice for rooms that are frequently used. Aside from this, vinyl flooring is water-resistant as well. This makes it a suitable choice for kitchens and bathrooms, which are frequently subject to water damage. Installation of your new vinyl flooring requires only minor preparation and can be completed quickly and easily. Today's vinyl flooring options offer a number of advantages over traditional hardwoods, including the ability to match the look and style of more expensive flooring options. With vinyl flooring, you can achieve the look of hardwood, stone, or marble at a fraction of the cost.
What Are the Types of Vinyl Flooring?
You should take a closer look at vinyl and luxury vinyl flooring options when considering your new flooring options. Here are some of the different types of vinyl flooring.
Vinyl Flooring Type: The
Vinyl Plank
Photo: Flooringstores
There are vinyl planks that are designed to mimic hardwood floors. The varieties available cover almost all types of wood grain, texture, and colour. Foam is often used in the core of vinyl plank flooring, which provides rigidity and strength to the flooring. Easy installation is one of the advantages of vinyl planks. An easy tongue-and-groove installation method can be used to install click-lock vinyl plank flooring over concrete, tile, wood, and vinyl surfaces.
They provide the same aesthetic appeal and design as wood, but they serve a much greater purpose. These vinyl planks are water-resistant, as opposed to wood flooring. Moreover, they are more stain-resistant and easier to maintain than traditional wood.
Enhance your interior living spaces with the warmth and comfort of the style of real wood.  

Vinyl flooring can come in a variety of types, some of which are 100% waterproof.  

An underlayment is attached to the mattress to reduce sound, absorb shock, and enhance comfort. 

Perfect for basements, kitchens, bathrooms, as well as high-traffic areas.
Vinyl Flooring Type:
The Vinyl Tile
The appearance of vinyl tiles is similar to that of stone tiles. There are numerous colors and sizes available as well as different patterns that can be arranged with them. There are a variety of design options available for vinyl tile. It is also possible to add grout between the vinyl tiles to enhance the appearance of stone or ceramic tiles. Since vinyl tiles are easier to handle and can be easily cut to fit into tight spaces, this vinyl tile is appropriate for small areas. Moreover, replacing a damaged section with a single vinyl tile is much simpler.
Vinyl Flooring Type:
The Vinyl Sheet
This type of flooring is made up of vinyl sheets that are 12 feet wide, as the name suggests. Vinyl sheets flooring is suitable for large areas and requires fewer seams to be aligned. Vinyl sheet is not only affordable, but it is also very durable and can be applied over a variety of surfaces, including wood, tile, and even previous vinyl flooring. Color granules are embedded directly into the top layer of the inlaid vinyl sheets, making it a popular choice for high-traffic areas. As a result, the surface vinyl sheet becomes more durable and less susceptible to scratches and stains.
Vinyl Flooring Type: The
Luxury Vinyl Tile
As an extension of the previous flooring styles, luxury vinyl, or LVT, comes in several styles. The thickness of this Luxury Vinyl Tile is approximately five times greater than that of standard vinyl flooring. It is the additional material of Luxury Vinyl Tile that gives it a more realistic appearance of wood or stone. Luxury Vinyl Tile can be replicated almost exactly as it is manufactured with the aid of 3D printers. With its high level of functionality and classic-expensive look, it is a high-performance flooring option at an affordable price. Compared to traditional vinyl, it is designed to last longer and is expected to last, on average, for up to 20 years.
What Are The Layers of Vinyl Flooring?
Vinyl flooring usually consists of four layers. It is likely that these layers will vary in construction and quantity depending on the type and cost of the flooring itself. However, they are all present regardless of the type and cost of the flooring.

Photo: Alucansa.com
The Backing Layer
of Vinyl Flooring
It is usually made of cork or foam and serves as both a first layer and a bottom layer. It serves as an underlayment for vinyl flooring, which eliminates the need to purchase or lay down any material between the floor and the vinyl. The second function of this layer is to provide a cushion and sound barrier.
The Water Resistant Layer
of Vinyl Flooring
The next layer of vinyl flooring is the core. This also needs to be water-resisting layer. The purpose of this layer is to absorb moisture without causing swelling of your floors, thereby preserving their durability. A water-resisting core can be classified as either a WPC or an SPC. An SPC is constructed using a stone/plastic composite material, while a WPC is constructed using a wood/plastic composite material. Both these cores provide a rigid result, making the click lock system possible and easier for the DIY and professional installers.
The Printed Layer
of Vinyl Flooring
There is a lot of fun to be had on this layer and all the design flair can be seen here. People spend the majority of their time deciding on flooring based on what is visible and what they are interested in. Despite the fact that the other layers contribute to the product's function and durability, it is this layer that attracts potential buyers as there are so many options, colors, textures, and looks to choose from.
The Wear Layer of Vinyl Flooring
This is the top layer and the protector of all the other layers. It is what stands between all the wear and tear and activities done on the floor. It is important to be aware of the thickness and construction of the wear layer on whatever vinyl flooring option you go with. High-traffic areas need a thicker grade wear layer to keep your floor looking great for a long time. The areas that see less activity can go with a lower wear grade, but always keep in mind the importance of this layer.
How to Maintain Vinyl Flooring?
Vinyl flooring today is designed to last longer than ever before, but there are still steps that can be taken to keep it protected and shiny for many years to come. The vinyl flooring is easy to maintain and does not require any polishing or waxing. Vinyl floors generally have a clear wear layer that protects them from household stains, but some vinyl floors are also resistant to permanent markers, ketchup, mustard, and other difficult stains. 
Keep your floor clean by sweeping, dusting, damp mopping, or vacuuming regularly. Vinyl flooring is much more scratch resistant than other types of flooring, such as hardwood, but it is essential that you maintain it in a clean condition to ensure that it remains scratch-free for a long time to come.
It is recommended that you use a pH-neutral floor cleaner and avoid using cleaning agents that contain wax, oil, or polish. To obtain information specific to the product, please refer to the use and care guide. 
Ensure that any standing water, pet urine, or other liquids are removed as soon as possible.  
Steam cleaners and vacuum cleaners equipped with beaters should not be used.  
All furniture legs should be protected from damage by flat floor protectors (nylon or felt). 
Ensure that your pet's nails are kept trimmed. 
All types of vinyl flooring make great additions to your home when you are looking for a durable and affordable flooring option. If you would prefer to leave the vinyl flooring installation process to professionals, we at Word Of Mouth Floors offer vinyl flooring installation services.
Watch this video to learn more:
Vinyl Flooring: There Is A Choice For You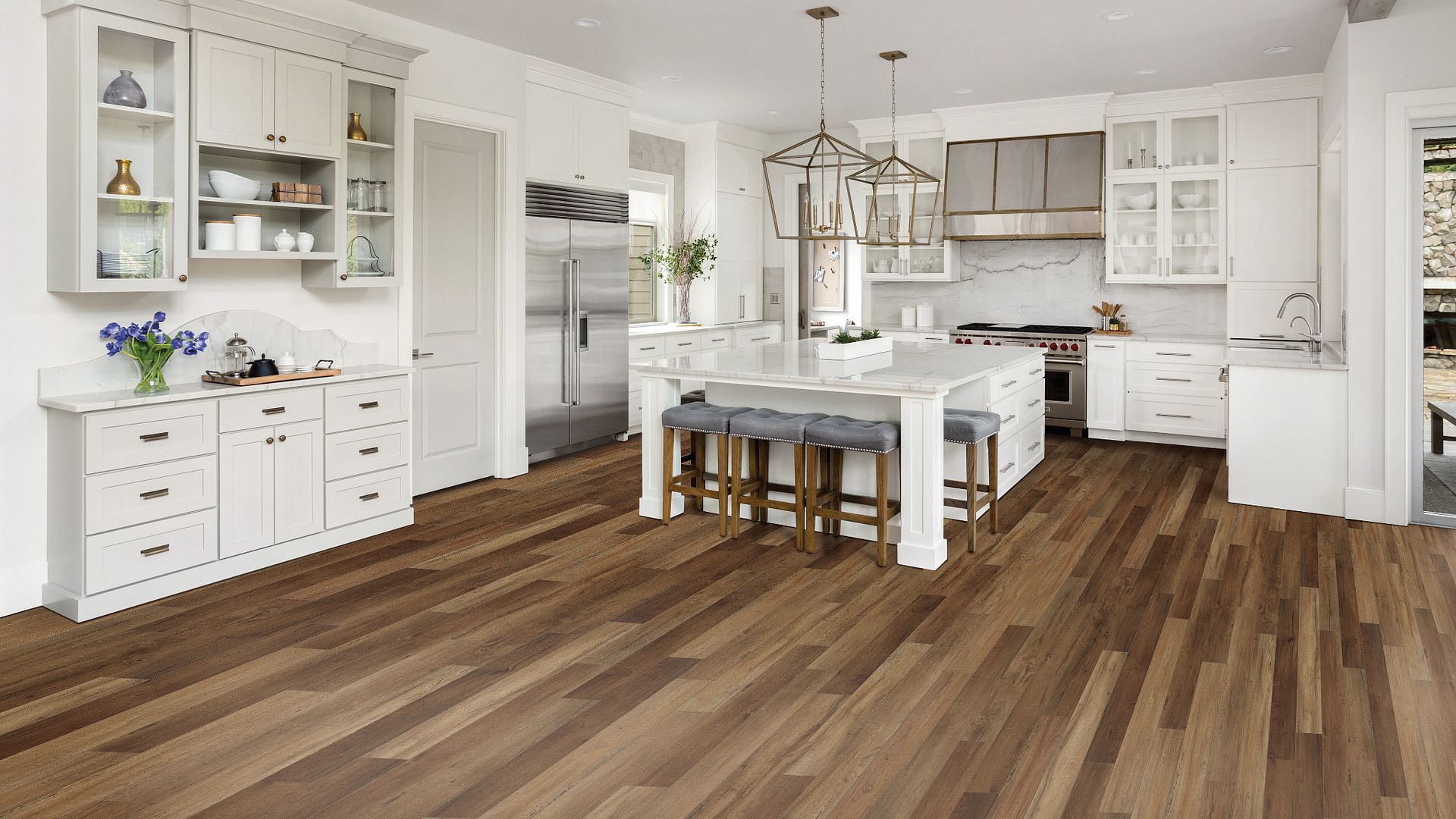 Photo: Coretec
It is possible to choose from a variety of flooring options when you decide to put down new flooring in your home. It is important to make the right choice for function, durability, and style depending on the room and the activity that is conducted there. With today's versatile types of vinyl flooring, you have a range of options at a price that is affordable for the majority of projects.
Other flooring blog articles you may want to read:
BIYORK FLOORS: BUILDING ON INNOVATION, BUILDING ON DESIGN
HOME FLOORING OPTIONS: WHAT ARE THE MOST DURABLE?
FLOORING MADE BETTER BY TORLYS
LAMINATE, VINYL, AND ENGINEERED HARDWOOD FLOORING OPTIONS: WHAT MAKES THEM DIFFERENT?