A number of flooring options have been developed for manufactured homes in recent decades. We have prepared here a complete guide to the best flooring for mobile homes. There are many available flooring for mobile homes today that were previously unavailable. With the growing number of options, it is also more likely that one may get confused or overwhelmed as a result.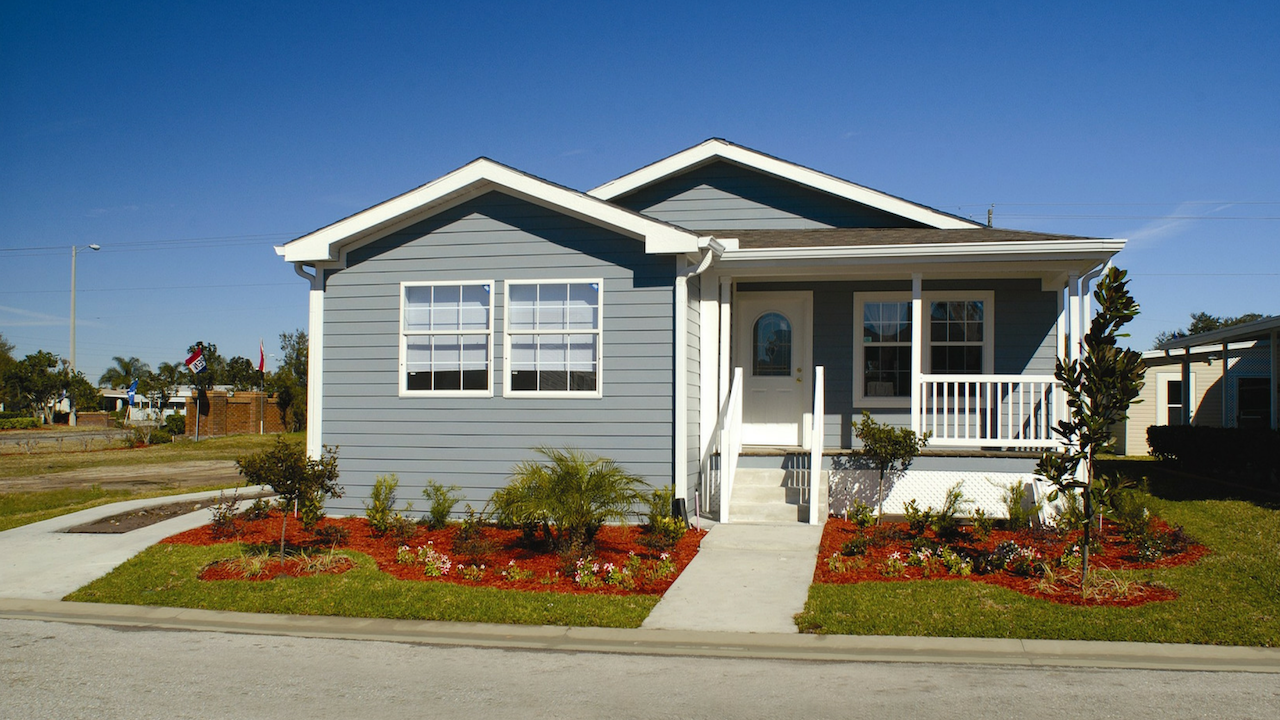 Photo: Triad Financial
It may be that the flooring in your mobile home is beginning to show its age, or you may simply wish to give it a new look. No matter what situation you are in, selecting the perfect flooring option is one of the most important and difficult decisions you will ever have to make. This is where you will find the right flooring for your mobile home if you are interested in finding the right flooring for your mobile home. There is no need to think small or simple when it comes to mobile home flooring. You should give your floors the attention and time they deserve.
Flooring for Mobile Homes: What are the Considerations?
The Style of Flooring for Mobile Homes
The style of an individual is subjective. There is no one size fits all approach to home improvement, so while one homeowner may be a fan of rustic dark hardwood, another may prefer a lighter, cleaner design using laminate tiles. It is entirely a matter of personal preference.
Mobile homeowners have access to a wide variety of flooring options, including engineered hardwood, vinyl, laminate, hardwood, and many more. A wide variety of materials as well as countless colours and patterns are available for each of these options.
The Cost of Flooring for Mobile Homes
It is important to consider cost regardless of who you are or what type of project you are undertaking. The budget for each project varies. Most people do not have a blank checkbook to play with, while there are some individuals who do.
There will be a wide range in prices for materials, just as there will be for any product on the market. Whatever option you choose, make sure that it fits within your budget, regardless of whether you wish to go with hardwood or tiles.
The Durability of Flooring for Mobile Homes
Similarly to other homes, mobile homes receive a great deal of foot traffic. There is nothing more frustrating than getting brand new flooring installed only to find that it wears out almost instantly. It is for this reason that durability is so important. You should choose the type of flooring for your mobile home that will be able to withstand the wear and tear associated with everyday use.
Flooring for Mobile Homes: 
What Are The Best Flooring Options?
Following our discussion on the primary considerations for installing flooring in mobile homes, you may be wondering which material is best to use. Listed below are four of the best materials for flooring in mobile homes.
Vinyl Flooring for Mobile Homes
Photo: Mobile Home Living
It is an excellent choice for mobile homes to use vinyl. There is a high level of scratch, stain, and spill resistance, which makes it a good choice for homes with heavy foot traffic. Moreover, it can be easily cleaned and maintained. There is no doubt that vinyl could be the right choice for you, whether you are interested in something sleek and minimal or something more rustic and fun. As vinyl tiles come in tile-like shapes that can be easily adhered to the wall by peeling and sticking them or adhering them using adhesive, they are comparatively easier to install. Purchasing a few extra pieces for errors is advised if you are preparing them yourself.
Engineered Hardwood Flooring for Mobile Homes
Photo: Lifecore Flooring
It is possible to have the beauty of hardwood without all of the maintenance associated with it by using engineered hardwood. It will be less expensive to fix a spill, and moisture and temperature regulation will be less of a concern. Engineered hardwood is available in a wide variety of colours and patterns, making it an ideal choice for mobile homes.
Laminate Flooring for Mobile Homes
Photo: Clayton Homes
For good reason, laminate is a preferred material among installers and DIYers alike. The installation process is straightforward, saving you time, and the product is easy to maintain and durable. Moreover, it provides you the benefit of experiencing the look and feel of natural wood without the drawbacks. There are many styles and patterns available in laminate, making it a particularly attractive option for those looking for something affordable.
Hardwood Flooring for Mobile Homes
Home: Mobile Home Buyers
The durability and aesthetics of hardwood flooring make it the ideal flooring for any home. A manufactured home may also benefit from this product. There is no doubt that hardwood is a luxurious and popular choice. Although hardwood flooring is more expensive and requires more maintenance, it is well worth the investment. You can make your mobile home floors more beautiful and sophisticated by choosing species such as oak and maple.
Carpet Flooring for Mobile Homes
Photo: Academy Homes
Most mobile homes are covered with carpet, which is an economical and popular option. A carpet adds instant warmth and coziness to a home at a very reasonable cost. It contributes to the improvement of indoor climate control as well as noise absorption. Carpet is also available in various styles, which makes it an excellent option for a variety of decor schemes. Traditional carpets have the obvious disadvantage of being stain-prone. You can, however, easily remove and replace stained tiles if you opt for an option such as carpet tiles. The benefits of carpets can be enjoyed by homeowners without most of the disadvantages.
If you are in the market for carpets, you should take other factors into account in addition to colour and appearance. Your priority should be to ensure that the product is of high quality and durable. In order to determine the quality of a carpet, it is important to consider the kind and density of the fiber used, as well as the way in which they are twisted on the backing. Foot traffic or the weight of the furniture will determine the durability of the flooring. Hallways and other areas that receive a great deal of foot traffic should be covered with the most durable carpet available.
Do not forget to include the padding in your carpet budget, which can result in an additional few hundred dollars. Observe how closely the fibers are attached to the back of the rug. Generally, the denser the material, the slower it will matt.
Flooring for Mobile Homes: What Are The Installation Options?
The installation process is an essential consideration, regardless of whether you are a contractor or a DIY enthusiast. Firstly, we are referring to the replacement of floors inside a house. There may be only two or three rooms that need to be blocked off if it is a partial replacement. Despite the inconvenience, it is possible to do so.
It should be noted, however, that if you are refinishing the floors of an entire house, no one will be able to gain access to the interior while the project is in progress. It is extremely inconvenient and something that should be minimized to the greatest extent possible. It is essential to choose the correct type of flooring in order to minimize installation time and simplify the process.
Choosing a Professional Flooring Installer
The cost of hiring a professional may seem high, but it can save you a great deal of time and effort, and can also extend the life of the installation. It is even possible to receive free installation from some stores if you spend a certain amount. It should be noted, however, that free installation does not include subfloor replacement.
The best way to go if you're choosing carpet, tiles, vinyl, or linoleum (rolls) would be to hire a professional since these materials require specialized tools and training. When you do not have construction experience, you may find it difficult to stretch carpets or cut linoleum rolls. If you are planning to install tiles in your bathroom, it is always advisable to hire a professional because a poor installation may cost you more than hiring a professional, to begin with. Some stores even offer free installation for purchase over a certain amount. However, free installation does not include replacing the subfloor.
If you pick carpet, tiles, or vinyl and linoleum (on rolls), hiring a professional would be the best way to go since they require special tools and expertise. For example, stretching a carpet or cutting the linoleum rolls is almost impossible without any construction experience. Installing tiles in the bathroom should always be done by a pro because otherwise, an improper installation might end up costing you more than hiring a professional in the first place.
Choose a DIY Flooring Installation
Floating or laminate floors are ideal if you are on a budget and cannot hire professionals due to their ease of installation. DIY installers may also consider vinyl tiles as an option. It may, however, be necessary to spend some additional time preparing the area and aligning the lines during the installation process.
Other flooring blog articles you may want to read:
LAMINATE, VINYL, AND ENGINEERED HARDWOOD FLOORING OPTIONS: WHAT MAKES THEM DIFFERENT?
CRAFT ARTISAN WOOD FLOOR: DISCOVER EXCELLENT HARDWOOD FLOORS MADE BY HAND
HOME'S PRO BUILDING MATERIALS: BEAUTIFUL FLOORING THAT'S GREAT FOR YOUR HOME