There are many things that can damage a floor, including pet claws and muddy shoes, heavy furniture, and water exposure. In an instant, even a well-maintained floor can be damaged if they're not durable. For this reason, you should prioritize durability when selecting the flooring material for your next home improvement project. Many companies use the term durability, but it's unfortunately vague, requiring home owners & contractors to dig deeper. In order to ensure high-quality products, it's vital that you understand the difference between good marketing language and genuinely good products. 
Photo: Wilkersonfloors
The Qualities of a Durable Floor
Impact Resistance in Flooring
Almost every day, people drop things by accident, which makes impact resistance a vital part of durability. The structural integrity of your floor should not be compromised by accidentally dropping something on it. It is important to look for flooring that has high impact resistance when you are looking for durability.
Water and Humidity Resistant Floors
Water and humidity are the worst enemies of a floor, however, they are commonly present in bathrooms, kitchens, sunrooms, and basements. It is possible for water to permanently damage your flooring if it gets into the softer layers. Protecting your floor from water damage and humidity begins with making sure they're water and humidity-resistant. 
Scratch and Scuff Resistant Floors
Scuffs and scratches are the most common types of flooring damage. A variety of things can damage your flooring, including moving furniture, high heels, and animal claws. Typically these events are not covered by warranties, since they are avoidable damage, not defects. Choosing materials that are scratch and scuff resistant is the key to finding a floor that is durable.
One note for all flooring types... subfloor preparation is always a vital step. We can not stress this enough. If you are a DIY installer and not comfortable levelling and ensuring your subfloor is ready for a successful install, we strongly suggest you speak with a professional. Along with moisture, an uneven subfloor is consistently a major reason flooring has problems in the future. 
Home Flooring Types: 8 of the Most Durable Flooring
Photo: FlooringHQ
Choosing the right flooring material can be difficult because there are so many options on the market. Also, you should know which flooring options are known to be durable before you start shopping. Your next home improvement project can benefit from the following eight durable flooring options:
Ceramic Tile Flooring
Photo: BuildDirect
Ceramic tiles are hard and solid, which resist dirt, dust, pollen, and other allergens from settling on them. It is easy to wipe away these small particles with a mop or sponge if they land on a ceramic floor. In this way, asthmatic and allergy sufferers are kept safe from irritating materials in the air.
The advantages of ceramic tiles include their durability, strength, ease of cleaning, and water resistance. It is important to know the difference between glazed ceramic tiles and unglazed ceramic tiles. Glazed ceramic tiles have a topcoat that makes them resistant to stains and water damage. In addition to being less expensive, unglazed tiles are also more likely to stain.
Porcelain Tile Flooring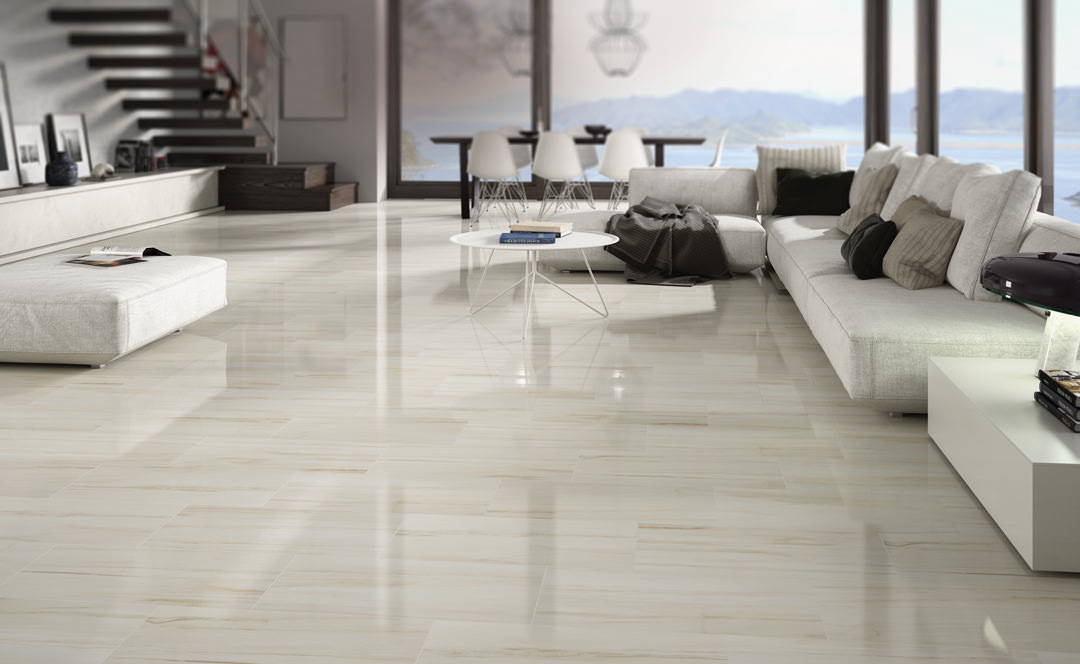 Photo: ENACO
Ceramic tiles are similar to porcelain tiles, but porcelain tiles are made out of finer, denser clay and are fired at higher temperatures. As well as being stronger and scratch-resistant, porcelain tile is also more durable and stain-resistant. Anywhere you want a good-looking, excellent-performing surface, porcelain tile can be used. You can use it as a countertop or wall covering in the kitchen, as well as in the showers and bathrooms. Flooring is, however, where it really shines.
Porcelain floor tiles look great when placed and require a little maintenance for years to come. It offers superior durability and long-term appearance which makes it an excellent choice for high-traffic areas. 
SPC Vinyl Flooring
Photo: District Floor Depot
 SPC flooring, also known as rigid core luxury vinyl flooring, is one of the most durable water-resistant vinyl flooring options available. The name "rigid core" refers to its ultra-tough core, which is based on the construction of SPC and WPC products.
What does SPC mean? It actually stands for two terms that are interchangeable: stone polymer composite and stone plastic composite. Core composition refers to the composition of the core. Due to its SPC core, this flooring can somewhat withstand uneven subfloors without losing a lot of its shape. Their durable design, low maintenance requirements, and long lifespan make them a smart choice for long-term needs. Whether you are building a kitchen, bathroom, or basement, they are a great choice since they are incredibly water-resistant.
Laminate Flooring
Photo: Mannington
Laminate flooring is a type of composite flooring that is synthetic in nature. The flooring is constructed with a plywood or fiberboard core layer. This core layer may also be protected and insulated by a backing layer or underlayment. An image layer of real wood, stone, or another material is glued on top of the core layer. Those who want the look of a wooden floor or stone floor are turning to laminate flooring to achieve the look without the price tag.
Today, it is seen as durable, low-maintenance, and high-quality, largely due to increasing options for excellent, photorealistic image layers. Home improvement professionals and DIYers alike love laminate flooring. Flooring options like this are affordable, easy to install, and reliable. Furthermore, pets, heavy foot traffic, and abrasions are no match for its durability and scratch resistance. The solid construction of the laminate core also helps hide deficiencies in the sub floor.
Bamboo Flooring
Photo: LL Flooring
Due to its natural beauty, durability, and renewability, the bamboo floor has become very popular. The bamboo plant grows much faster than trees, so it is more environmentally friendly. There are a variety of styles and sizes available for a bamboo floor, as well as solid or engineered versions. Unlike a solid wood floor, bamboo flooring is engineered, which is a process of cutting and shredding strands of grass, then pressing and gluing them back together. Unique and attractive are the results of this process.
Homeowners are choosing bamboo flooring for their homes due to its environmentally friendly properties. The material is incredibly durable and does well in spite of abrasions, children, and pets. You can install it in any room regardless of your budget, plus it's cost-effective and stylish.
Sheet Vinyl Flooring
Photo: Flooringinc
With its scratch resistance, water resistance, and impact resistance, sheet vinyl is one of the most durable flooring options there is. Moreover, it requires little maintenance and can be installed in a short time. It should also be noted that sheet vinyl is also relatively affordable, so it isn't very attractive or stylish in comparison.
In addition to being highly durable, vinyl sheet flooring can last upwards of ten to twenty years if properly installed and maintained. As a result, it is ideal for high-traffic rooms in the house, especially those with sneakers, pets, spills, and sloppy spills constantly on the floor!
Solid Hardwood Flooring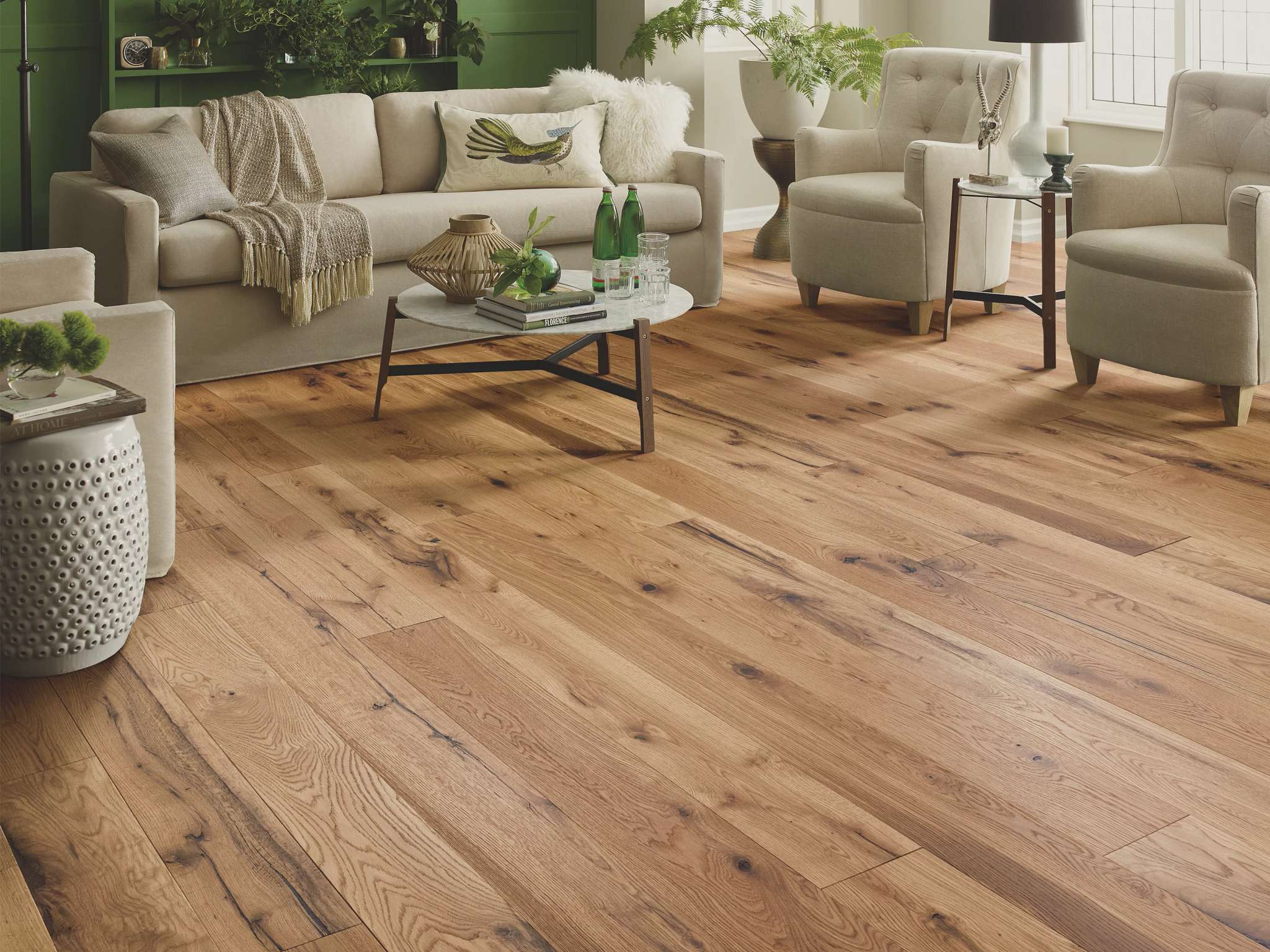 Photo: Shaw Floors
The use of solid hardwood floors is best suited for rooms on the first or second floor that have limited water exposure and foot traffic. Depending on your preference, you can purchase either prefinished or unfinished solid hardwood floors. The prefinished hardwood floor comes with a coating to protect them, so they can be installed right away. With unfinished hardwoods, you can stain them to match your decor and then finish them on site.
A well-maintained hardwood floor is stylish, durable, and long-lasting, so it's one of the best flooring options on the market. The wide variety of hardwood types on the market makes selecting them a very challenging process. Janka hardness ratings can be a good indicator of hardwood's durability and strength. According to this rating system, hardwood varieties are rated according to their hardness and internal pressure.
Engineered Hardwood Flooring
Photo: LL Flooring
The stability of an engineered wood floor is greater than that of a solid wood floor. Throughout the year, engineered hardwood can withstand higher humidity variations. The top of this floor is made of solid wood, and the core is made of several different layers of wood composites (like plywood). There is the highest quality hardwood on the top layer. The water-resistance of engineered wood flooring is higher than that of solid hardwood flooring, although we do not refer to engineered hardwood flooring as water resistant. So this is not recommended for a bathroom or high moisture room.
Hardwood floor is particularly susceptible to movement from moisture, which is one of its main drawbacks. In addition to addressing that issue, stable engineered hardwood offers the same level of luxury, style, and dependability as its solid hardwood cousin. If you want a hardwood floor with lesser maintenance demand and more stability, this is the perfect option for you.
Other flooring blog articles you may want to read:
North Vancouver Huge Flooring Showroom Free Samples
Flooring Terms - Quick Reference Guide
Acclimatize Your Flooring Pro Tips