Appearance is usually the main factor when choosing a flooring material for most parts of the house. With bathrooms, performance comes first. The best flooring options for bathrooms should be able to handle constant stress. And by stress, we mean a lot of moisture. Water is pervasive in the bathroom: running along pipes behind walls and ceilings and splashing everywhere. 
There are many available options for flooring for bathrooms, each of which has different moisture resistance levels. There are apparent winners if moisture is the only factor. But things can get tricky if you put appearance, durability, installation process, and cost in the equation. Let's review the best flooring options for bathrooms. 
Best Flooring Options For Bathrooms: Vinyl Flooring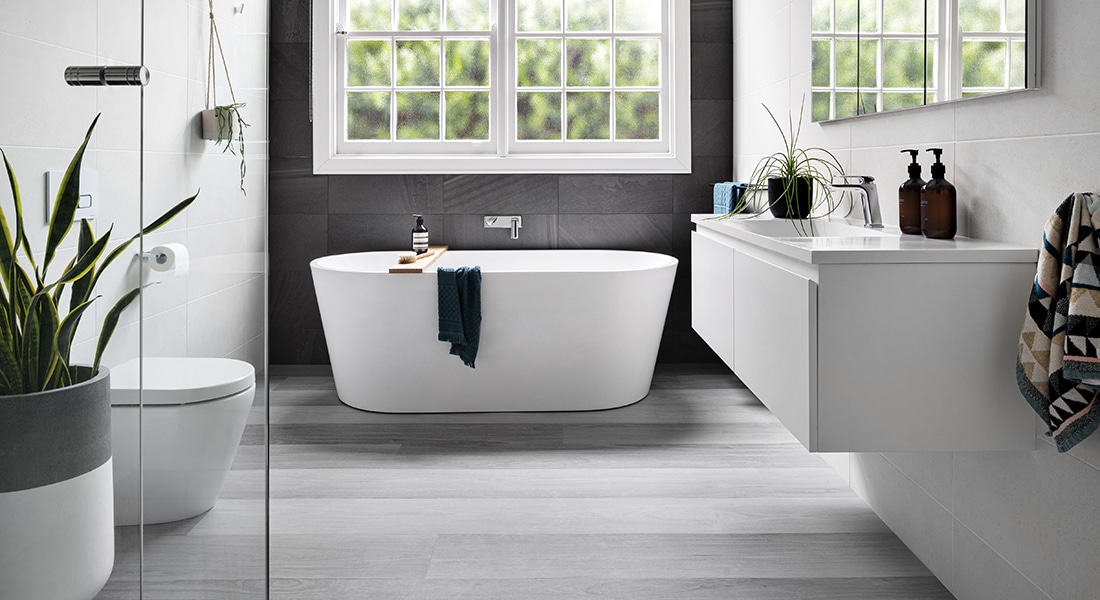 Photo: Signature Floors
Vinyl is a popular choice for bathroom flooring because it's easy to clean, long-lasting, and economical. Being scratch-resistant, it is ideal for homes with little children and pets. There are three types of vinyl flooring: sheet vinyl, luxury vinyl tile (LVT), and luxury vinyl plank (LVP). 
Sheet Vinyl
Sheet vinyl has maintained tremendous popularity for decades because it is incredibly economical. Modern technology has improved this flooring option regarding waterproof properties and visual appeal. You can find sheet vinyl that looks like wood or stone, allowing you to achieve the desired look at a much more affordable price. The installation process is also easier, although it requires a more stable subfloor than LVT or LVP.
Traditionally, sheet vinyl is set in place using a particular type of adhesive–which means extra work. Loose-lay sheet vinyl offers a more convenient option because you don't have to glue it down. It has a heavy fiberglass underside that sets the sheet on the floor–even on surfaces on which adhesives aren't as effective. Standard sheet vinyl is lighter and tends to curl over time. 
You can also easily replace vinyl as trends change. It's still best to hire a professional for seamless vinyl flooring installation. Sheet vinyl is generally made of polyvinyl chloride (PVC) and covered in UV-cured urethane. Both compounds have tightly-bonded molecules, which make them water and stain-resistant. Softer than LVT and LVP, sheet vinyl allows you to stand comfortably for long periods. However, this trait also makes it more susceptible to scratches. 
Luxury Vinyl Plank (LVP)
Luxury vinyl planks (LVP) adapt to different lifestyles and decor preferences. These are long, narrow planks with wood and stone-like surfaces. Some brands add texture to make them feel more realistic. Thicker and harder than sheet vinyl, these planks can withstand greater pressure. 
Luxury vinyl planks have multiple layers: 
Wear layer: protects the surface from moisture, scratches, and light-induced damage.
Luxury vinyl print: high-quality imagery that emulates the look of hardwood or stone
Rigid or flexible core: provides stability, can be vinyl-only, Stone Plastic Composite (SPC), or Wood Plastic Composite (WPC)
Underlayment: usually made of cork or foam, protects from heat and increases sound absorption.
LVP installation is available in glue-down and tongue-and-groove (floating) options. The glue-down method offers excellent stability, while the tongue-and-groove allows expansion and contraction due to temperature changes and humidity. These planks are available in gorgeous designs at a lower price than authentic wood and stone. You can enhance the visual interest in the bathroom by using unique patterns, such as chevron, parque, and herringbone. 
If the planks are stained or damaged, you may have to replace them because re-finishing is not advisable. Fortunately, getting rid of them is relatively easy, especially if they've been installed using the tongue-and-groove technique. 
Luxury Vinyl Tile (LVT)
Luxury vinyl tiles (LVT) are essentially similar to LVP, but these are usually designed to imitate stone or porcelain. Like LVP, these tiles have a rigid core that's more durable than sheet vinyl. Some brands also add textures similar to that of real wood or stone.
LVT is also available in glue-down and tongue-and-groove installation options. Compared to standard tiles, LVT installation is less laborious. You can directly lay the tiles over existing flooring. Plus, you don't need to use grout. LVT is ideal for bathrooms, kitchens, and basements because it is waterproof. It can also withstand a lot of pressure and temperature fluctuations. LVT maintenance is minimal as moisture doesn't seep into the deeper layers. There are also no grout lines to clean or replace.
Stone Plastic Composite (SPC) and Wood Plastic Composite (WPC)
Modern technology has helped flooring manufacturers expand their product range. One of the latest innovations in luxury vinyl products is the rigid core, which can be Stone Plastic Composite (SPC) or Wood Plastic Composite (WPC). The key feature of this rigid core is increased durability.
Stone Plastic Composite (SPC)
The core of an SPC is typically made of 60% calcium carbonate (also known as "limestone"), PVC, and plasticizers. It contains more calcium carbonate than WPC; hence, the term "stone." Generally, SPC floors have additional layers to sustain high traffic volume. The rigidity of SPC makes it resistant to dents and scratches. It's also the same reason you'd feel tired faster when standing on SPC floors. Many brands attach an underlay for extra comfort and noise reduction. 
Wood Plastic Composite (WPC)
WPC features a core filled with calcium carbonate, PVC, plasticizers, foaming agents, and wood materials. These wood materials can be bamboo, bark, sawdust, or peanut hulls. Because WPC is created from a paste, manufacturers can mold it into any shape and size to fit all design schemes. Wood is softer, so it bounces off fewer sound waves. Therefore, WPC is quieter than SPC and vinyl-only core flooring. It also provides better insulation against temperature changes, so you won't feel chilly walking barefoot in the bathroom on cold days.WPC absorbs impact better than SPC, which means it is gentler to your joints.  
Again, SPC and WPC are simply LVT variations. If the installation is correct, you don't have to worry about water seeping between tiles or planks. They are pricier than standard vinyl flooring but still cheaper than hardwood.
Flooring for Bathrooms: Maybe, Maybe Laminate Flooring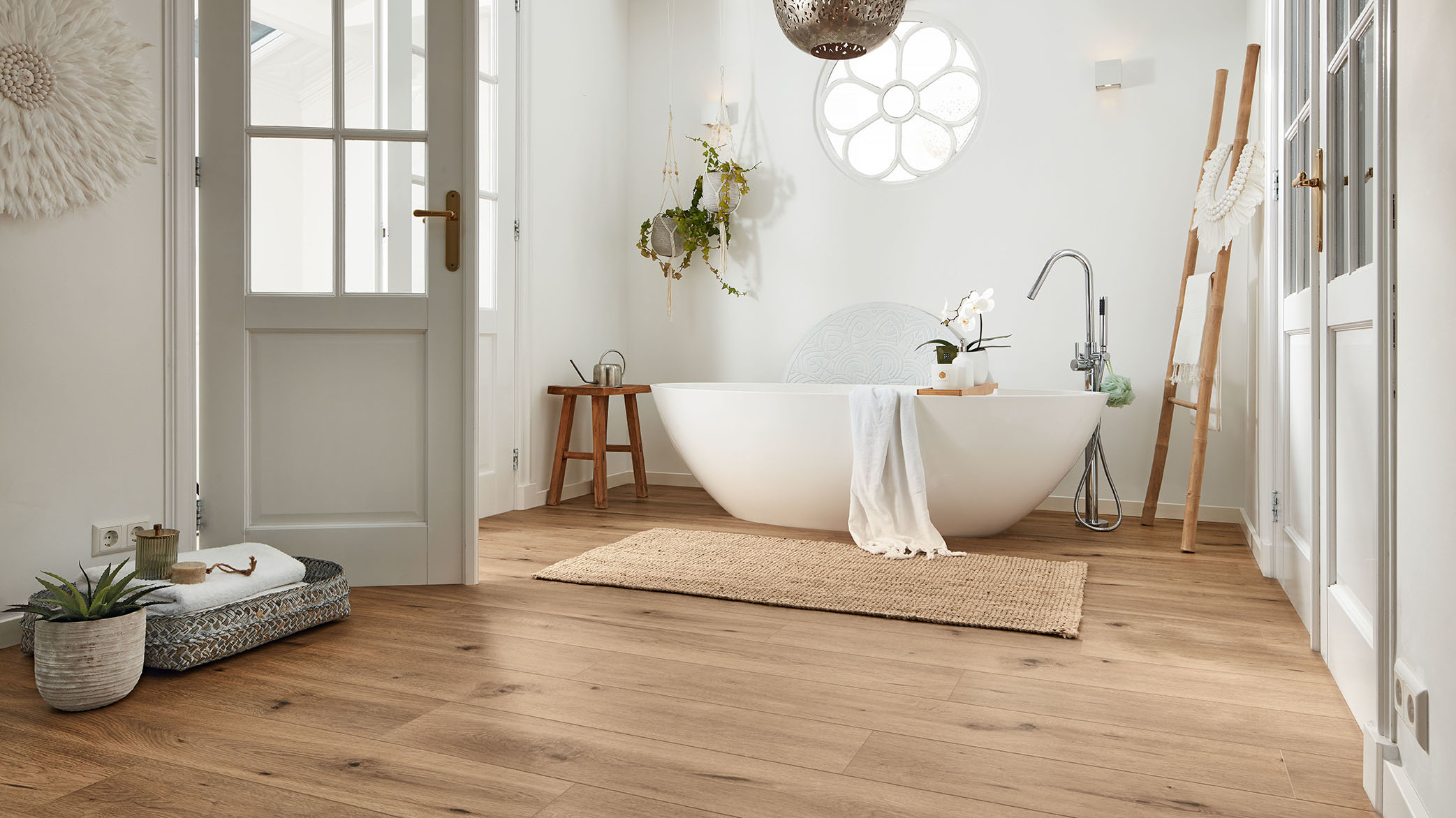 Photo: Meister
Maybe laminate. Not our first choice and usually we say no. In fact, just to be clear, we do NOT recommend laminate for bathrooms. Wood and water is not a good mix. Bad things happen. But it is such a common request that we get, we wanted to discuss here. 
What is laminate flooring? The laminate was invented by Perstorp, a Swedish specialty chemical company, in 1977. The objective was to put wood waste to good use. The result was laminate floor coverings. Laminate floors are known as an inexpensive flooring option. Over the years, these are becoming more common in higher-end residences as new technology improves their imagery and performance. Many homeowners and builders consider laminate as a practical alternative to hardwood. You'll understand their increasing popularity once you know their physical makeup.
Laminate floors have four layers: the wear layer, pattern layer, base layer (fiberboard), and backing layer. 
Wear Layer 
This layer is cured on the topmost surface of a laminate board. It is a transparent plastic sheet resistant to pressure from furniture, heels, pets, UV rays, etc. Typically, the wear layer consists of melamine.
Pattern Layer
Underneath the protective layer is a high-quality image of real wood. Many brands also add texture for an enhanced experience.
Base Layer (Core) 
Below the pattern is the substrate which is made of pressed wood particles. Any wood product is prone to water damage because of its tissue structure. The base layer can hold its form for a certain period. Water has to be removed as soon as possible to prevent swelling.
Backing Layer
It is usually made of a heavy layer of melamine sheet to provide stability and support the locking systems between boards.
The smooth and seamless surfaces of laminate floors make them easy to clean. You simply have to wipe spills and sweep dust and dirt. The wear layer is also scratch resistant, so in a bathroom that is more of a powder room, we are fine with laminate. Laminate floors are typically cheaper than hardwood, engineered wood, luxury vinyl flooring, stone, and ceramic, we we understand the attraction to use it.
Yes, laminate floors are great for the home. No, we do not like laminate floors in the bathroom that has an active shower or bath tub. But for a low moisture situation, and if you are very diligent with dehumidifier and not allowing any standing water or excessive moisture in the air, then its possible to use laminate in the bathroom.
A Word on Water Resistant & Waterproof Laminate Floors
Original old school laminate is just not a good choice for bathrooms.They are made up primarily of moisture-sensitive fiberboard, it can be tricky to use laminate flooring for the bathroom. When we say tricky, we mean, it will swell and you will likely have a negative reaction. In a word, don't do it. The fiberboard can (will) absorb moisture and swell. Not to mention potential mould and mildew growth. So rule of thumb is, only use laminate that has been specifically produced to resist moisture. These are marketed as water proof or 72 hour (or 80 hour) water resistant. Again, we want this as a place holder... advances in laminate manufacturing are making it more and more water resistant and it can be used in high moisture environments. But it is still not what we recommend for a bathroom, with so many other (better) options. We love water resistant laminate and it can be used all over the home, but I will always struggle with the idea of putting a wood core product into a high moisture environment. Why risk it? The other point is, laminate is a floating floor. We do not recommend any floating floor installation in a bathroom (including 100% waterproof vinyl) as water can get trapped underneath the planks. the waterproof floor will be fine, but the subfloor may not be, and trapped water is a bad thing. Mold and mildew. Avoid this risk and do not install floating floors in a bathroom.
Best Flooring Options for Bathrooms: Tiles
Photo: Home Decor Bliss
You can't go wrong with tiles in a bathroom. It is commonly used in bathrooms due to its moisture resistance and minimal care requirements. Homes in other warmer regions also use them widely for the bedroom, living room, and other parts of the house. This is because tiles have low thermal conductivity, so they feel cool all year.
Tiles have a hard surface that doesn't hold onto moisture, dust, dirt, etc. You can clean them easily with a rug or mop. Unfortunately, the hard surface is also why ceramic tiles can quickly strain your feet and legs. There's an infinite number of choices when it comes to designs. You can also find ceramic tiles that look like hardwood and natural stone. Modern techniques also make it possible to emboss the surface.
It's worth knowing that ceramic tiles have a glazed surface. Damage to the surface can reveal the colour/pattern of the base. Porcelain tiles, on the other hand, have the same colour/pattern throughout. The main drawback of ceramic tiles is probably the laborious complicated installation. You also need special tools to cut the tiles to fit around the bathroom's features.
Water can get through the tiny pores of ceramic tiles. Fortunately, the water infiltration is minimal and unlikely to cause water damage. You may apply a sealer for added protection depending on the surface type. Porcelain tiles are denser than their ceramic counterparts. However, these are usually more expensive. If you have the budget and enjoy the tile look, then porcelain tile is the superior choice.
Flooring for Bathrooms: Natural Stone
Photo: Love to Know
Using natural stone in dwellings has been a symbol of wealth and power. The intensive labour that comes with quarrying, transporting, and shaping a natural stone costs a fortune.
Even with modern equipment that makes natural stones more accessible, they are still far from affordable. These building materials have unique aesthetics. Slabs from the same quarry site can have different shades and vein patterns. A property with natural stone flooring tends to have high resale value because this building material has a limited supply. 
However, some natural stone types are not the best option for bathroom flooring because they are porous. There are effective sealers available today, but that means additional cost and maintenance. Natural stone doesn't retain much heat. Walking on it with bare feet can be uncomfortable. Professional installers would automatically advise homeowners who opt for stone flooring to install a radiant floor heating system. Natural stone is also less durable than ceramic or porcelain tile. Consider traffic volume and temperature fluctuations before making a decision. 
Conclusion Best Flooring Options for Bathrooms
In conclusion, choosing the best bathroom flooring involves considering several factors, including moisture resistance, budget, installation, comfort underfoot, and style preferences. When it comes to flooring options, each has its unique advantages and considerations. Vinyl flooring, available in sheet, luxury vinyl tile, and luxury vinyl plank, offers versatility and affordability while ensuring excellent moisture resistance. Luxury vinyl planks and tiles provide you with the realistic look of wood and stone, making it easy to achieve the bathroom aesthetics you desire.
Laminate flooring is an option but comes with moisture-related challenges and may not be the most recommended choice for bathrooms, especially those with active showers or bathtubs. Tiles, whether ceramic or porcelain, are classic and durable, making them a safe bet for bathroom flooring. Their cooling properties are excellent for warmer climates. Natural stone, while exuding luxury and uniqueness, comes with maintenance considerations and a higher price tag.
Ultimately, the ideal bathroom flooring will depend on your specific needs, budget, and design preferences. When making your decision, consider consulting with a professional installer and a trusted retailer. Their expertise can guide you in making an informed choice that ensures your bathroom not only withstands the moisture challenges but also reflects your personal style.
In the end, your bathroom should not only be a functional space but also a sanctuary where you can relax and unwind. Choosing the right flooring can play a significant role in achieving that perfect balance between aesthetics and practicality. Whether you opt for the versatile vinyl, timeless tiles, or the luxury of natural stone, rest assured that your bathroom will be a place of comfort, style, and durability. Happy renovating!
Other flooring blog articles you may want to read:
FACTORS TO CONSIDER BEFORE INSTALLING VINYL FLOOR
TWELVE OAKS FLOORS: DELIVERING EXCEPTIONAL FLOORS BECAUSE YOUR VALUE IS THEIR PROMISE
LAMINATE, VINYL, AND ENGINEERED HARDWOOD FLOORING OPTIONS: WHAT MAKES THEM DIFFERENT?
CRAFT ARTISAN WOOD FLOOR: DISCOVER EXCELLENT HARDWOOD FLOORS MADE BY HAND