Various types of flooring are available for all tastes and spaces, and of course, flooring for high-traffic areas is not left out. A high level of traffic is indicative of foot traffic, furniture wear, and furniture damage. If you choose the best flooring for high-traffic areas, you will not have to worry about anything.
A home with high traffic refers to areas such as the entryway, hallways, bathroom, kitchen, and living room. Almost every day, high traffic is experienced in these areas. Consequently, you should consider flooring options that are durable, resistant, and easy to maintain. Furthermore, if you are remodeling a bathroom or kitchen, the materials must be waterproof or water resistant.
Photo: Carpet One
We have compiled a list of the top features to consider when selecting a type of flooring for high-traffic areas in this article. There are several types of high-traffic flooring that are most suitable for these areas, as well as some that are not as suitable. What you need to do to ensure that your floors look beautiful and remain in good condition for as long as possible. You will find this helpful when you are choosing a type of flooring for areas with high traffic, which may become a problem if you do not make the right choice.
The Features of Flooring for High-Traffic Areas
It is important to choose high-traffic floors based on the six most important factors; the best, and most challenging aspect is to achieve the perfect balance of these six aspects. Nevertheless, if you do so, you will have the perfect flooring in your busiest areas.
Flooring Should Be Durable
Durability is the first and most important characteristic. There are many factors that contribute to the wear and tear of these floors, such as footfalls, furniture dragging, and falling objects. The same applies to pet footfalls and children's games. Floors of this type must be constructed of materials that will not easily give way, and they must be able to guarantee their durability.
Flooring Should Have High-Resistance
Besides being durable, your choice of flooring should also be resilient. In terms of resistance, your floors need to be able to resist scratches, heat, and water. It is worth noting that there are flooring options suitable for high-traffic areas, such as engineered hardwood, which is a durable and suitable flooring type.
Flooring Should Be Easily Maintained
High-traffic flooring is not only exposed to footprints and scratches, but also to dust and dirt on high-traffic floors. As these floors are easily soiled, stained, and muddy, easy maintenance is a desirable feature, especially if you do not enjoy spending a lot of time cleaning them. For this aspect, choose floors that dry quickly and do not warp when regularly cleaned to ensure that they remain beautiful, clean, and free of scuff marks.
Flooring Should Be Elegant
The durability and resistance of your floors do not imply that they resemble concrete. It is important to combine elegance with the above features since high-traffic areas will receive a greater number of visitors. Having this feature in your home or business can make a significant difference.
Flooring Should Be Comfortable
A high-traffic floor should be attractive, durable, resistant, and comfortable. The warmth of the floor plays a fundamental role in terms of comfort since it is important not to have a floor that is too cold underfoot. Moreover, the anti-slip properties, which are responsible for ensuring the user's safety when walking, are equally important.
Flooring Should Be Cost-Effective
The cost of installing a high-traffic floor does not have to be high. It is also important to remember that cost may also affect your decision, however, you should not sacrifice other factors in order to save money.
Flooring Types For High-Traffic Areas
Photo: Zameen
The following is a list of five of the best high-traffic flooring options, however, not all of them meet all of the features listed. However, their advantages make them worthwhile considerations. Choose the option that best fits your preferences and your project. Take into account both the advantages and disadvantages of each option when making your decision. 
Tile Flooring For High-Traffic Areas
Besides being extremely durable and resistant to stains, porcelain and ceramic tiles are also resistant to water and scratches and are one of the simplest options in terms of maintenance. A properly maintained floor can last up to 20 years in perfect conditions, provided that it is taken care of properly.
Elegance is a very important feature, and there are options that can achieve this capability very well, which makes them an excellent choice for high-traffic areas. Moreover, these floors are eco-friendly, do not cause harm to the environment, and are hypoallergenic as well.
It is important to note, however, that comfort is not one of their strong points. If the high-traffic area is a kitchen or studio where standing time is much longer, ceramic tiles will be of limited benefit. Due to their hard texture and the possibility of causing joint problems, as well as the fact that they are very cold underfoot. While these floors are very versatile, their impact resistance is not the best, since they can break easily if forced to bring heavy items into contact with them; therefore, if your furniture is very heavy or you need to drag it, you should consider other options.
Laminate flooring For High-Traffic Areas (Rated AC4 to AC5)
There is no doubt that laminate flooring is one of the most durable, comfortable, stylish, and affordable flooring options available today. It is recommended to purchase an AC4 or AC5 rating for high-traffic areas. They are durable, scratch-resistant, and resistant to children's toys and frequent foot traffic. The use of this type of product may not be suitable if the area is exposed to moisture. Laminate flooring provides a comfortable and warm feeling underfoot. Moreover, laminate flooring has the advantage of being easy to install and maintain. 
Concrete Flooring For High-Traffic Areas
As a durable, resilient, and easy-to-maintain material, concrete is an excellent choice. The good news is that concrete can be utilized for residential or commercial purposes in a manner that is elegant. It is possible to expect a concrete floor to last for a lifetime. Also, this material is highly impact-resistant, so it does not fragment when it comes into contact with heavy objects, so infants and pets are able to walk on it without any issues.
The disadvantages of these floors are their inability to retain heat, which makes them cold to walk on. Additionally, if they are constantly exposed to water, they may crack and require replacement, which can be a complex and expensive procedure.
Hardwood And Engineered Hardwood Flooring For High-Traffic Areas
Wood floors are characterized by elegance, like hardwoods and engineered hardwood floors. They are very durable and have a high resale value due to the natural beauty and for engineered hardwood, the different layers of wood (for added stability). Furthermore, they have the advantages of comfort and durability. Their weakness is in the area of scratches and dents. Natural wood will wear and many people believe this adds to the floors beauty. But note that other home owners stress out about every little scratch, and that is their right as a home owner. So be careful when choosing natural hardwood floors if you are worried about natural wear and tear. Hardwood flooring is perhaps the most expensive option for high-traffic areas, but its resale value may make it an excellent choice.
Luxury Vinyl Flooring For High-Traffic Areas
Choosing luxury vinyl flooring for high-traffic areas can also be a good decision. In addition to being durable, they are also resistant to stains, scratches, moisture, and frequent foot traffic. Furthermore, they are also renowned for their comfort and warmth, which makes them ideal for high-traffic areas, especially when pets or children are present.
Luxury vinyl flooring is also easy to maintain and provides elegance. There is also a wide array of styles to choose from, so you can customize your kitchen, bathroom, and living room to meet your needs. When it comes to material life, it may not be the most suitable choice, but it is not difficult to change it if you so desire.
Flooring Maintenance For High-Traffic Areas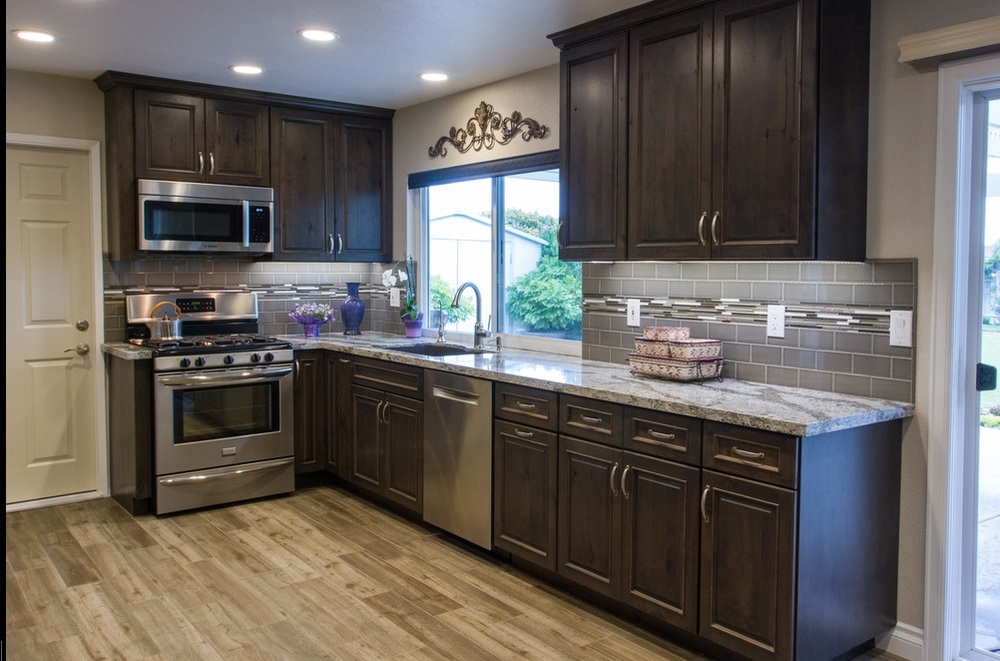 Photo: New Bath Life
There is some degree of maintenance involved with all types of flooring. It is always advisable to maintain high-traffic floors properly. Here is some information that will help you to clean, maintain, and care for your floors properly.
Floor Cleaning For High-Traffic Areas
Regarding high-traffic floors, regardless of the material chosen, they are extremely durable. In order to maintain the cleanliness of your floors, it is important to sweep and mop them regularly. Additionally, a thorough cleaning will be performed on a regular basis at least once per year. The purpose of this cleaning is to ensure the longevity and durability of your floors.
Floor Maintenance For High-Traffic Areas
High-traffic floors also require regular maintenance. It is for this reason that area rugs and mats are useful. Additionally, they prevent them from scratches and trap dirt and debris, reducing the amount of debris that may damage them. Meanwhile, furniture leg protectors are never a bad idea when it comes to keeping your floors in good condition.
Flooring Care For High-Traffic Areas
When floors are properly maintained, they will always look beautiful for a longer period of time and will not become scratched. It is recommended that you use mats or better yet, hand carts, in order to prevent heavy furniture from sliding on them. Your floors are also at risk if you wear heels, as they can exert considerable pressure and buckle them irreparably.
Other flooring blog articles you may want to read:
A GUIDE TO THE BEST FLOORING MATERIALS FOR MOBILE HOMES
HOME'S PRO BUILDING MATERIALS: BEAUTIFUL FLOORING THAT'S GREAT FOR YOUR HOME